WHAT IS MICROFIBER LEATHER?
1. Introduction

Artificial microfiber leather is an innovation of the modern technology, it is a big leap of improvement for synthetic leather. Microfiber leather is created from polyester fiber, polyamide fiber and polyurethane. More and more factories are using Microfiber leather as the best alternative for natural leather. Between 2004 and 2012, Microfiber leather consumption has a growth rate of 8.7% annually. By 2010, the consumption is 118 m2 and 2012, it is 141 m2.

Microfiber leather can be used in production of many products, including: footwears, bags, furnitures, car interior. With several superior characteristics (technical speicification, performance increment, etc.) microfiber leather has become popular globally and is accepted more by manufacturers. In Vietnam, Microfiber leather is a new material therefore, it hasn't been used widely yet.


2. Artificial microfiber leather
Microfiber leather is a type of synthetic leather, it is a high technology simulation of natural nateral leather. Microfiber leather has similar structure to that of natural leather, however, the initial ingredients are ultra microfiber "sea-island" (Polyester fiber and polyamide fiber which ranges between 0.3 to 1 dtex) and high quality polyurethane then use the non-woven fabric production technology to form the 3D structure. The material characteristics of Microfiber is quite similar to natural leather, and some physical and chemical specifications are better than that of natural leather.


Special traits of microfiber leather:
Microfiber leather has better appearance than natural leather.

Microfiber leather has better tensile strength, elongation, tongue tear, heat endurability, acid resistance, alkali resistance, decoloration resistance, non-fading surface than animal hides.

Antibacterial, anti-mildew, mothproof, without any harmful substances, very environmental

Microfiber leather is considered the Green Product in the 21st century.

Easy to cut, high utilization rate, easier to clean than animal hides, odorless.

Cost-efficient, better productivity than natural hides.

Product diversity
Microfiber leather application: Can use for the production of all leather goods:
Leather interiors

Car seat, car interior

Bags

Footwears

Apparel

Safety products

Holster

Accessories
3. Leather
Leather is the full-grain layer of animal skin which still contain the fundamental structure but the physical, chemical characteristics of the leather is modified due to the purpose of use. Leather is created from animal hide. Animal hide contains Grain layers, Corium layer and flesh. In leather goods production, only full-grain and corium layers are used.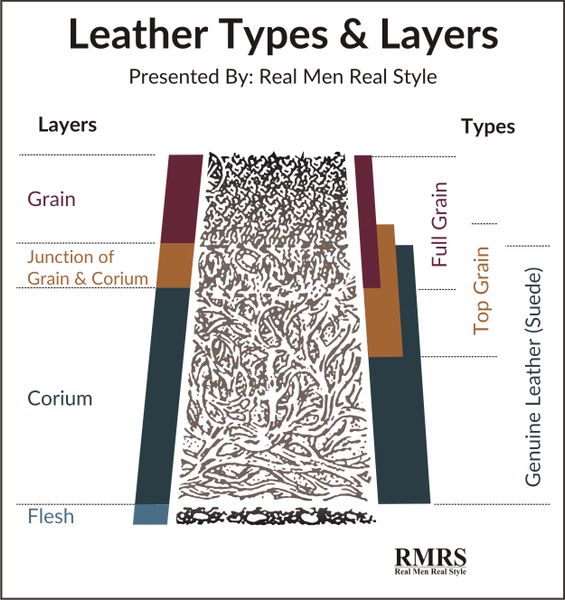 Hình 1. Cấu trúc da nguyên liệu

In full-grain layer of animal skin, collagen fiber occupies more than 80%. Collagen of animal hides reacts with tanning chemical substance to create leather. Within collagen, there are 18 different types of amino acids. These amino acids connect together to form the peptide bond.

In the grain layer, the collagen fiber are organized to form the fibrous structure of leather. The density, thickness and rigidity of the collagen fiber decides the technical specifications of leather. Commonly, the skin on the back has the most rigid structure which is the best quality leather/
Hình 2. Ví dụ phân vùng con da
Each animal has their unique skin structure (the ratio of amino acid, collagen fiber structure, density, fiber thickness, etc.), they are all different and it decides the quality of leather. Aminal age also has great influences on the quality of leather.

On leather, there can also be flaws because during the living time of the animal, it can get scratched, bitten by insects or other animal, diseases, etc. which also influnce leather quality. Based on the skn quality and leather using purpose, there are 5 types of leather:

Full grain leather
Nubuck
Suede
Corrected grain leather
Finished split
4. Replace animal hides with microfiber leather


4.1. Microfiber leather technical specifications (microfiber leather's products quality)
For a normal leather goods industry such as footwears, the quality criteria is decided by the physical, chemical criterias of component materials. To judge the compatibility of microfiber leather in the uppers and insole of shoes, we have conducted the scientific test on microfiber leather sample and cow leather to compare the result. The test involves 6 microfiber leather samples: 4 to make shoes upper, and 2 to make shoes insole; and 2 cow leather samples of 26 JSC - Ministry of Defenses: 1 to make shoes insole and 1 to make shoes upper. (table 1 and 3)


All the tests are conducted at the National Shoes and Leather Research Institute. Test results are shown in the below table 2 and 4: Microfiber leather's technical specifications are greater than that of cow leather and they are all greater than the criteria for shoes uppers and insoles production based on ISO/TR 20879: 2007 and ISO/TR 20882:2007.


Table 1: The leather samples are used for shoes uppers

Bảng 2. Test results for microfiber leather and cow leather in shoes upper production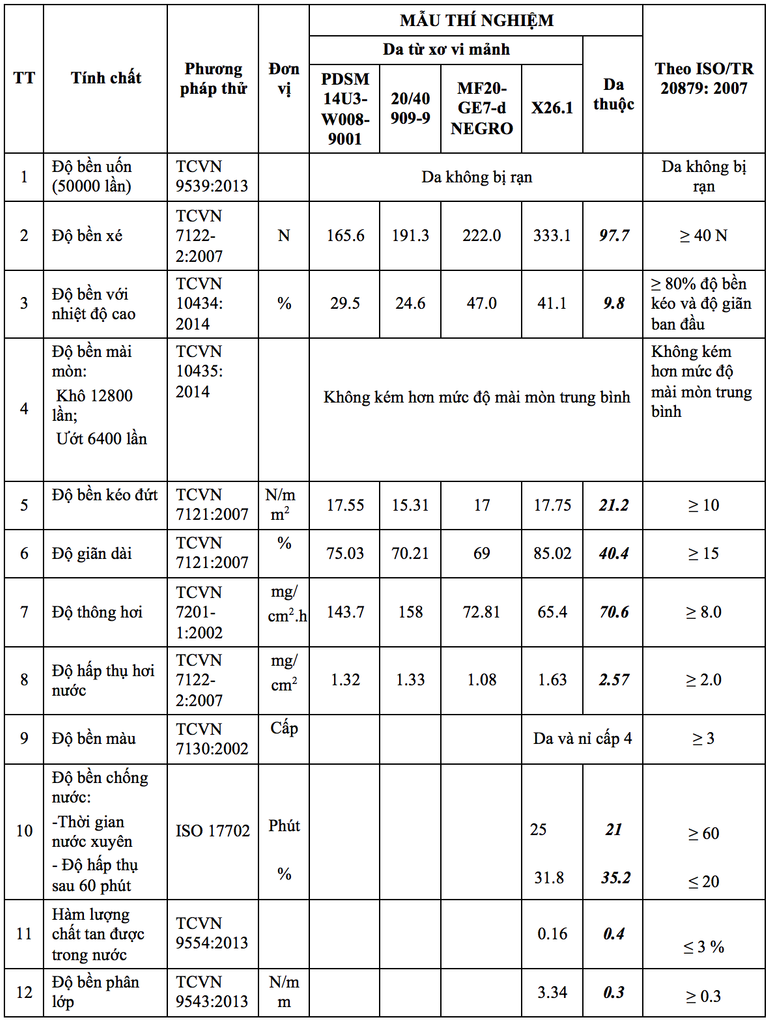 Bảng 3. Leather samples to make shoes insole


Bảng 4. Test result for microfiber leather and cow leather for shoes insole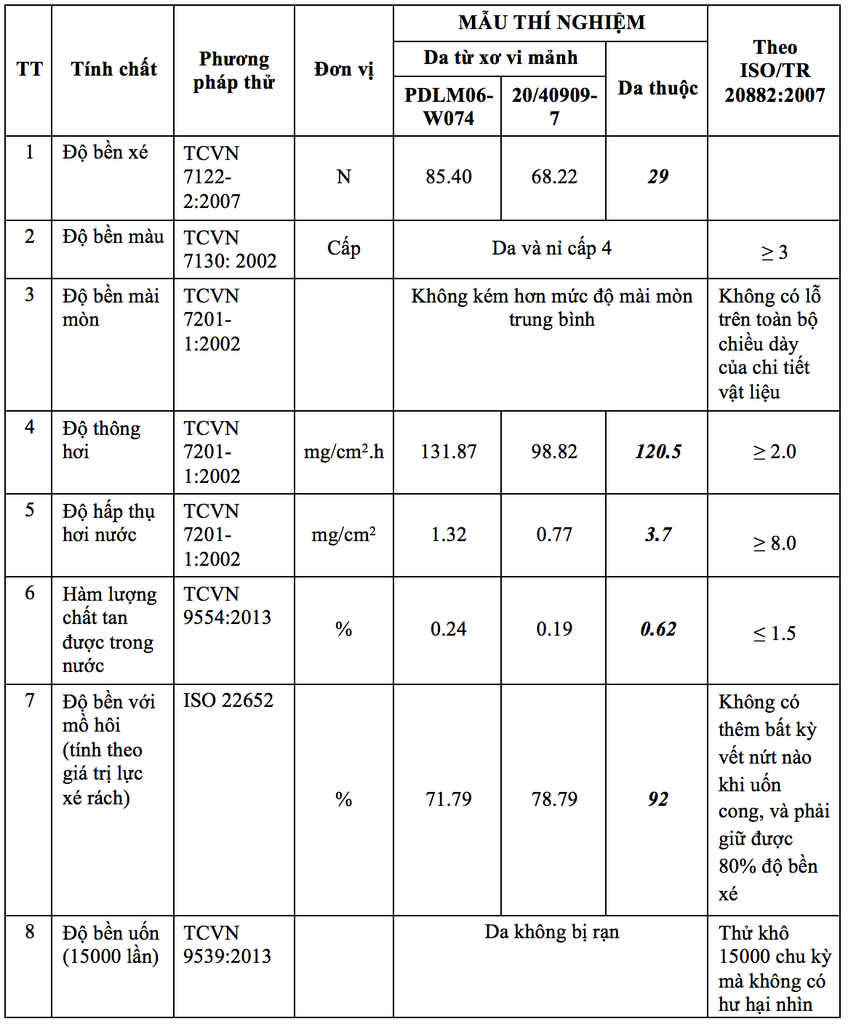 The leather test sample is taken from the best quality area of the hide because the quality of the rests are not similar. A big difference between natural leather and microfiber leather is that microfiber leather has very balance quality amongst all leather pieces. Based on the above test results, microfiber leather shoes satisfy the criteria: high endurability, tidiness and comfortable. Breathability of microfiber leather is much greater than natural leather, and much higher than the standard requirement for shoes' tidiness (it can keep the feet dry and heat resistant). This is a major advantage of microfiber leather.

4.2. Benefits of using microfiber leather

Each piece of natural leather has different and complicated from, it's not consistent amongst the hides. On the surface of natural hide there can be holes, flaws and each area has different quality and different colors. While using natural leather, the amount of wasted leather is large. In actual production, the are with good leather quality is about 55% of the hide, so, if a product requires more than 55% of the hide area, then it won't have a good output product.

The production efficiency of natural leather is lower than productivity. Based on the quality distribution on natural hide, the amount of usuable leather is about 60 to 80% only.


Microfiber leather is produced in roll form, stable quality amongst the whole roll, the cut productivity and efficiency is increased greatly and it reduced the amount of wasted leather. Therefore, the percentage of usable microfiber leather after cutting is accounted for 90%.


4.3. Productivity when using microfiber leather

Cutting productivity: with natural leather, manufacturers need to cut each piece according to the marked map. As each piece of natural leather is unique, therefore, the cutting productivity is low.

With microfiber leather, the manufacturers can cut 6 to 10 layers at the same time using the same marked map. The preparation for cutting is simple, doesn't require many people. In comparison with natural leather, the cutting productivity of microfiber is 20 to 30 times faster.


4.3. Production cost of microfiber leather products

The production cost of a leather good is built up with:

Materials costs

Labor cost

Management cost

Power cost (electricity, water)

Depreciation

Other costs
When using microfiber leather, the above costs are lowered:

Lower the material costs: microfiber leather is 30% cheaper than natural leather while productivity and production-efficiency is much higher.
Reduce labor costs. The production stages are optimized, lesser labors, simple process.
Decrease depreciation costs, save power cost.
Decrease other costs, including waste resolving cost because wasted materials are decreased.
4.5. Microfiber leather can improve output products' quality


Beside good technical specifications, the usability of microfiber leather can be modified to match with the production purpose. Some technical characteristics can be added to the microfiber leather:

Fire resistance;

Mold resistance;
Antibacteria;
Water absorbtion resistance;
Heat endurance;
Chemical matter endurance.
5. Summary
Microfiber leather is a high quality artificial product to simulate natural leather surface and structure and it is being used more widely around the world for leather goods production.

With the advantages of technical specifications, microfiber leather goods can match both the surface appearance and the quality of natural leather. Beside that, as microfiber leather technical characteristics are manipulatable, it is possible to create industrial leather products with very professional using purposes. Using microfiber leather material can reduce production costs, improve cutting productivity, reduce labors cost and optimize the production process.


6. References


[1] Sandip V. Purane, Narsingh R. Panigrahi; Microfibers, microfilaments and their application; AUTEX Research Journal, Vol. 7, No3, September 2007.
[2] J.B. Qu, C.B. Zhang, L. F. Ren, Structure Comparison between Collagen fiber and Microfiber, Indian Leather, 2007.
[3] J.B. Qu, Synthetic leather technology, Chemical Industry Press, 2010.
[4] Shu-Chuan Liao, Ko-Shao Chen, Wei-Yu Chen, Chin-Yen Chou, and Kan-Chi Wai; Surface Graft Polymerization of Acrylamide onto Plasma Activated Nylon Microfiber Artificial Leather for Improving Dyeing Properties; International Journal of Chemical Engineering and Applications, Vol. 4, No. 2, April 2013.
[5] Xuechuan Wang, Xiaoqin Wang, Taotao Qiang, Longfang Ren, Peiyi Wang; Modification of Microfiber Synthetic Leather Base and Model by Collagen; Journal of Engineered Fibers and Fabrics, Volume 10, Issue 2 – 2015.
[6] Longfang Ren, Na Wang, Sen Sun, Taotao Qiang, Xuechuan Wang; Improvement of the Sanitary Property of Microfiber Synthetic Leather Base by PAMAM; Journal of Engineered Fibers and Fabrics, Volume 10, Issue 2 – 2015.
[7] Nashwa Mostafa Hafez Mohamed, Helwan University; An investigation into the physical and functional properties and sew ability of Faux leather; International Design Journal, Volume 5, Issue 2, pp 375-383.

Xin trân trọng cảm ơn Tiến sĩ Bùi Văn Huấn và Viện Dệt May - Da Giày Và Thời Trang, ĐH Bách Khoa Hà Nội và Viện Nghiên Cứu Da Giày Việt Nam đã phối hợp cùng Microfiber Vietnam thực hiện thành công các thử nghiệm chất lượng của da Microfiber trong thực tế sản xuất.